New Patients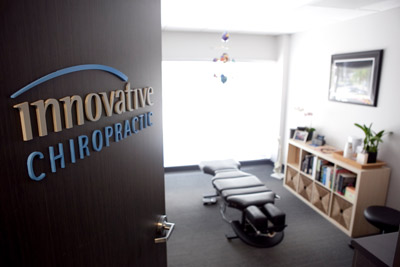 Welcome to Innovative Chiropractic where you can begin your healing journey in our friendly and comfortable environment. Our practice is anything but stuffy; you won't feel like you're in a medical office complete with old-school anatomy pictures. We are a modern practice that takes a forward-thinking approach to getting patients better.
A Respite in the Valley
Silicon Valley techies in need of a respite will find it at Innovative Chiropractic. Dr. Casey provides longer appointments to give all of his patients time to relax and reset before returning to their demanding jobs and busy lives. "I want to help curb some of the patients' stress and help them clear their heads a little and focus on what they need to do to get better."
Your First Appointment
When you first come in, Dr. Casey will greet you and take your vitals to clear out any red flags. You can tell him what's going on with your health and what brought you in. Here's what you can expect next: Dr. Casey will
Take your history
Perform an exam
Do some light tissue work with Active Release Technique®
Perform a chiropractic adjustment if there's any misalignment or malfunction in the joints
Show you some exercises with weights or bands
Refer out for X-rays if necessary
This visit takes about an hour.
Your Second Appointment
At this visit, Dr. Casey will discuss how everything is feeling and if anything new popped up. He'll do a quick update. "If nothing's changed and everything is better that tells us we're on the right track." You'll then do some exercises, and if they go well, Dr. Casey will improve them and give you a little more to do at home. "The quicker we can do active patient care the faster we can get patients moving, exercising and strengthening. As a result, we'll get better clinical outcomes." Your second visit and subsequent appointments will take about 30 minutes.
Regular Visits
During your regular visits, we'll find out if your condition is improving or not improving. If something new arises we have that full 30 minutes to do a mini exam, then get a working diagnosis and treatment plan. We want to accommodate patients by building in added time, so they don't have to come to the office for an additional exam.
Do I Have to Go for the Rest of My Life?
Some people may find they do have to go to the chiropractor frequently while others conclude that regular maintenance care is good for them. Dr. Casey is passionate about equipping patients with the tools they need, such as exercises, to keep functioning well throughout their lives. "I prefer that patients have the empowerment to exercise outside of the office on their own. That could mean walking for 30 minutes or doing a gym workout. That is what's going to make them better and fitter and help them function optimally."
Start feeling your best with natural, noninvasive chiropractic care. Contact us today to schedule an appointment or free consultation. We're open late for your convenience!
CONTACT US TODAY »

---
New Patient Center | (650) 701-7090